Scott's Grandfather joins Scott in Heaven

Margaretta Scholarship Fund
We are currently trying to raise $25,000 for Scott's Margaretta Scholarship Fund so it can be self-sufficient and be available forever!   Any donations are tax deductible and you can donate as often as you like – be it $25 or $2500 or anywhere in between.  See right sidebar for complete information. =====>>>


This scholarship plaque that will be placed at MHS beginning June 2016  and each year thereafter.  The student  being awarded the $1000.00 scholarship will have their name added to the scholarship guitar.  

---
SCOTT GAST MEMORIAL BATTLE OF THE BANDS NOMINATIONS
2016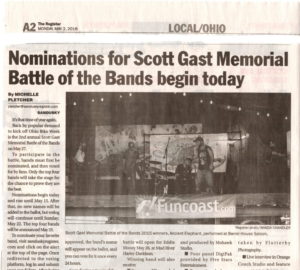 ---
Little Kids Rock: Scott Gast Music Memorial Fund
We also have a Scott Gast Music Memorial Fund setup to help the LKR (Little Kids Rock) program held weekly at St. Peter School in Huron.
Huron St. Peter was the first Catholic school in the nation to establish & support a Little Kids Rock program, teaching kids in grades 1-8 how to make, perform and sing rock n roll music.  During the ceremony, the kids blew the crowd away with an amazing version of "Knockin' On Heaven's Door." In Scott Gast's memory & legacy, the Scott Gast Memorial Fund donated three new guitars to the program. 
For more information or to send a contribution in Scott's honor, contact LKR-Huron  c/o 409 Anchorage Circle, Huron OH 44839

Here are some links to articles about Little Kids Rock – Huron: